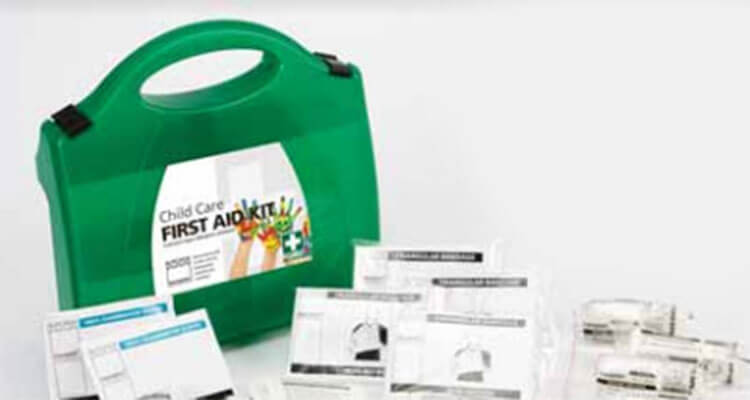 Ofsted Compliant First Aid Kit For Childminders
There is a requirement for schools and nurseries, or anyone working within the care of children to have in place Ofsted compliant first aid kits for treating children in case of an emergency.
Our paediatric first aid kit meets the requirements of Ofsted and the guidelines given by the Health and Safety Executive, the National Child Minding Association & the Pre-School Learning Alliance and the contents have been put together under the watchful eye of a course tutor specialising in childcare first aid courses.
First Aid Kit Contents Below
2 x Dressing – large
6 x Dressing – medium
2 x Dressing – eyepad
4 x Bandage – triangular
3 x Gloves – pair
1 x Safety pins (bag)
10 x Wipes – alcohol free
20 x Plasters hypo-allergenic
1 x Resusciade one way valve
5 x Low adherent dressing
1 x Microporous tape 1.25cm x 5m
1 x Pair of first aid kit scissors
5 x Gauze swabs 5cm x 5cm
1 x Gauze tubular bandage size 01 x 1m
1 x Gauze tubular bandage applicator
1 x Guidance leaflet
Ordering is easy please click the following link to be taken to our first aid equipment website: Ofsted Compliant Paediatric First Aid Kit Childminders
For any additional information regarding the onsite paediatric first aid training, the online training we have available, or any first aid equipment supplies please contact us through our contact us page.